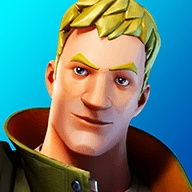 Fortnite
Deskripsi
Fortnite Android Game
The popular battle royale -- now for Android
In Fortnite Battle Royale, you're looking at online multi-player combat where 100 players take part in a grisly fight for survival until only one player is left standing. This time, Fortnite Battle Royale comes in an Android adaptation by the hands of Epic Games studio. In good form, none of the original scenes or game system was altered, and are left entirely intact on your smartphone.
The biggest new feature regarding other Battle Royale games is the possibility to create buildings on your game territory. Use them as a refuge, search for ammo, and watch your back. You'll need to pick up base materials in order to put together makeshift walls and ramps. Meanwhile, you'll need to deal with an invisible barrier that goes from spanning out to shrinking, designed to keep you on your toes and in constant movement throughout each match.
Set on an Unreal Engine 4 motor, in terms of visual effects, this game is identical to its PC and console counterparts. Not only that, but its whole monetization system is also exactly the same. This game is totally free of charge, aside from for-purchase aesthetic improvements that you can pick up via in-app purchase. Better yet, Epic Games is lining up cross-play between versions, meaning you can participate in PvP battles with other PC, PS4, Xbox One, iOS and Android players.
Fortnite Battle Royale is already one of the top games in 2018. Its Android version is timed to steadily increase its massive following of online players across the globe.
Info
Info
Anda mungkin juga menyukai:
Layanan Game Android disediakan oleh PHONEKY dan 100% gratis!
Game bisa diunduh oleh Samsung, Huawei, Oppo, Vivo, LG, Xiaomi, Lenovo, ZTE dan ponsel Android OS lainnya.
Informasi halaman
Download permainan Fortnite ke ponsel Andorid Anda - salah satu game Android terbaik gratis! Di Pasar Android Market PHONEKY, Anda dapat mendownload game mobile untuk ponsel atau tablet yang benar-benar gratis. Grafik bagus dan gameplay adiktif akan menghibur Anda dalam waktu yang sangat lama. Di PHONEKY, Anda akan menemukan banyak game dan aplikasi dari genre yang berbeda, mulai dari petualangan dan tindakan hingga game balap Android dan balap Android. Download game dan aplikasi Android gratis ke ponsel, tablet, atau komputer Anda. Untuk melihat 10 game terbaik untuk Android, cukup urutkan game menurut popularitas.
baik
Game ini membutuhkan data tambahan untuk didownload setelah install!
baik
Game ini adalah retro tua NES, SNES, GBA, N64 atau PSX ROM yang bisa Anda tiru / jalankan di Perangkat Android Anda!
baik