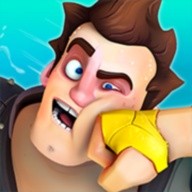 Smash Supreme
Deskripsi
Smash Supreme Android Game
Fight online in this super fun game
Smash Supreme is a fighting game where you battle against other players online. However, instead of directly controlling the movements of your character, you'll have to use a series of cards to perform the attacks you want.
Combat systems in Smash Supreme are simple. Each of your attacks is represented by a card that you can play at any moment. After you play a card, however, you'll have to wait a few seconds before it recharges and you can play it again. With this in mind, you'll have to try to damage your opponent. To avoid enemy attacks, you can use the block button, but you'll have to be careful how long you hold it down since your energy will run out pretty quickly.
Between fights, you can add new cards with new movements or improve the cards you already have in your collection. This way, you'll increase attack damage. You can also unlock new characters and customize those you already have unlocked.
Smash Supreme is an original and fun card game that has absolutely amazing graphics. The fights between players last for just a few minutes, so it's a perfect game to play when you want to kill a few minutes of free time.
RequirementsRequires Android 4.0 or higher
Info
Info
rangkuman ulasan
Belum ada ulasan untuk game ini
Anda mungkin juga menyukai:
Layanan Game Android disediakan oleh PHONEKY dan 100% gratis!
Game bisa diunduh oleh Samsung, Huawei, Oppo, Vivo, LG, Xiaomi, Lenovo, ZTE dan ponsel Android OS lainnya.
Informasi halaman
Download permainan Smash Supreme ke ponsel Andorid Anda - salah satu game Android terbaik gratis! Di Pasar Android Market PHONEKY, Anda dapat mendownload game mobile untuk ponsel atau tablet yang benar-benar gratis. Grafik bagus dan gameplay adiktif akan menghibur Anda dalam waktu yang sangat lama. Di PHONEKY, Anda akan menemukan banyak game dan aplikasi dari genre yang berbeda, mulai dari petualangan dan tindakan hingga game balap Android dan balap Android. Download game dan aplikasi Android gratis ke ponsel, tablet, atau komputer Anda. Untuk melihat 10 game terbaik untuk Android, cukup urutkan game menurut popularitas.
baik